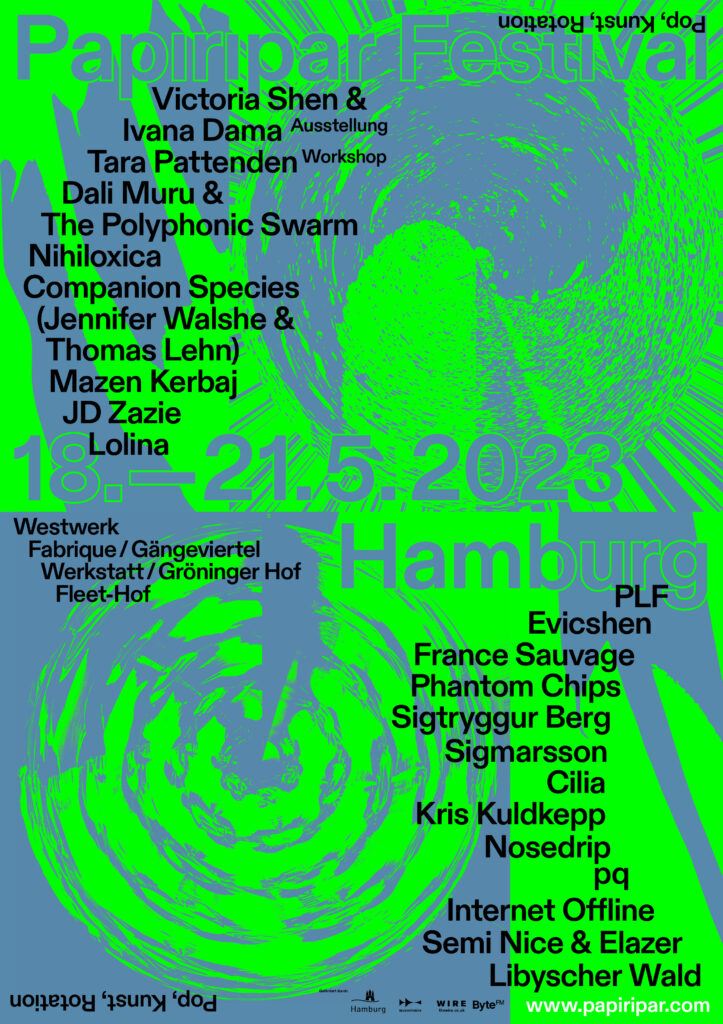 18th – 21st MAY 2023
At long last: live! After two years of torpefying collective compliance, Hamburg's experimental festival for pop, art and rotation has reawakened to the light of the day. Spotlight for our first post-Covid edition is "scope of movement", in its broadest sense. For the Break Through in Play Room we are celebrating pop and art between centrifugal force, gambling disorder and alternating current.
Now in its fourth edition, PAPIRIPAR – Hamburg's festival for recalcitrant trend waves interference for interval alarms during somnambulist periods of inaction – has fully recalibrated the colour and music scales. This time, the palette of acts set to tantalise eyes and ears ranges all the way from larger-than-life, breathing sound machines (Victoria Shen & Ivana Dama) and Dadaist monologues in clothing-free space (Sigtruyggur Berg Sigmarsson), afro-futurist syncopated industrial rhythms (Nihiloxica), otherworldly pop complexe (Lolina) and digitally deconstructed sound poetry (Jennifer Walshe & Thomas Lehn) to electro-acoustic concerts in the raw sound funnel of a Hamburg courtyard (Mazen Kerbaj & JD Zazie). There will also be a workshop on how to build a spectre detector (Tara Pattenden).
Curated by Felix Kubin, Nika Son and Florian Bräunlich, PAPIRIPAR once again executes mesmerising and delirious back flips and adulterous flings with and between the fiercely patrolled disciplines of art, music and performance in order to set off aesthetic electrical sparks capable of jump-starting our slumbering cultural bohemia.
E X H I B I T I O N
Victoria Shen + Ivana Dama
W O R K S H O P S
Tara Pattenden
C O N C E R T S / P E R F O R M A N C E S
Dali Muru & The Polyphonic Swarm
Nihiloxica
Companion Species (Jennifer Walshe & Thomas Lehn)
Mazen Kerbaj
JD Zazie
Lolina
PLF
Evicshen
France Sauvage
Phantom Chips
Sigtryggur Berg Sigmarsson
Cilia
Kris Kuldkepp
D J s
Nosedrip
pq
Internet Offline
Semi-Nice & Elazer
Libyscher Wald