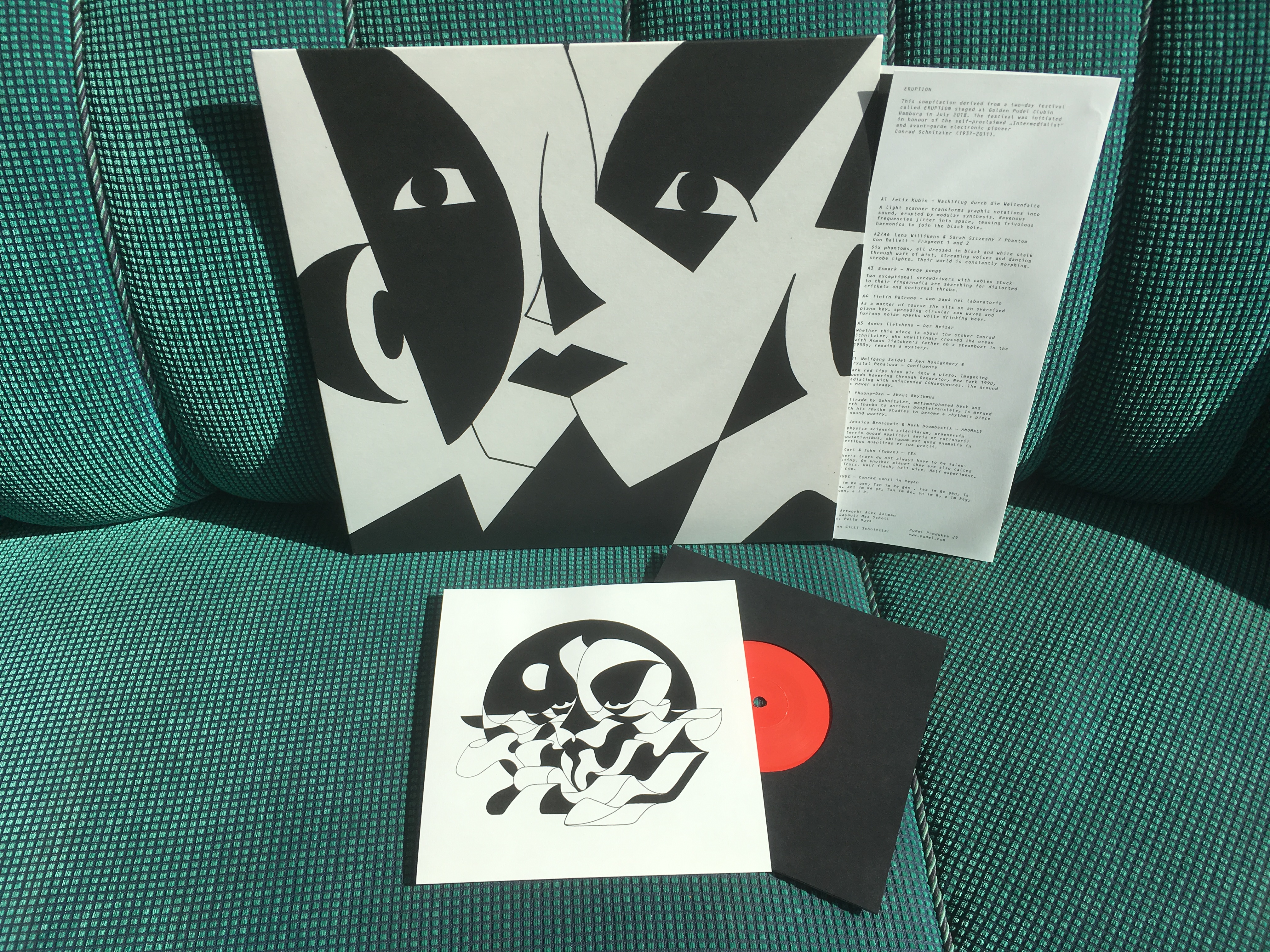 ERUPTION
Pudel Produkte 29
Compilation, LP
Ken Montgomery, Wolfgang Seidel, Asmus Tietchens, Tintin Patrone, Felix Kubin, Esmark, Lena Willikens & Sarah Szczesny, Carl & Sohn, Jessica Broscheit & Mark Boombastik, RVDS, Crystal Penalosa und Phuong-Dan.
Split-Single, 7inch
Conrad Schnitzler & Ken Montgomery
Asmus Tietchens
ERUPTION is an outburst of creaking energies, unconventional ideas, arhythmic thoughts, cacophonous images and musical phantasms.
ERUPTION is also the name of the second album by Kluster, a band project of the musician and video artist Conrad Schnitzler, who died in 2011, together with his colleagues Dieter Moebius and Hans-Joachim Roedelius.
ERUPTION was also the name of a two-day festival that took place in July 2018 at the Golden Pudel Club in Hamburg.
For two days, artists and musicians from different generations and working in various fields met here, who were in one way or the other inspired by the comprehensive oeuvre Conrad Schnitzlers', as well as by his free-spirited thoughts and actions.
The result was a multi-faceted programme of concerts, performances, sound and video installations, which resulted in the release of these two special records on Pudel Produkte, the house-own label of the Golden Pudel Club.
The single features a previously unreleased piece by Conrad Schnitzler & Ken Montgomery as well as a story told by Asmus Tietchens about his father and Schnitzler, who unwittingly crossed the Atlantic together on the steamboat Bornhofen in the late 1950s, one as an engineer, the other as a heater.
The LP brings together the festival's invited artists, Schnitzler's contemporaries such as Ken Montgomery, Wolfgang Seidel and Asmus Tietchens, as well as young artists who developed works especially for ERUPTION. Among them are Lena Willikens & Sarah Szczesny with fragments from their performance Phantom Con Ballet, the DJ Phuong-Dan who composed a musical collage from the poem About Rhythmus and rhythm studies by Schnitzler, a piece from the performance of Felix Kubin, who uses a light scanner and his modular synthesizer to convert graphic notation into sound, a theatrical sound piece by Carl & Sohn (also known as Les Trucs), the producer and DJ RVDS, who interacted with the piece Tanz im Regen by Conrad Schnitzler and many more.
Initiated and curated by Nika Son, a musician and artist based in Hamburg.
Conrad Schnitzler (1937-2011) called himself an 'intermedialist', he was a musician, composer, video and concept artist and is still considered one of the most important pioneers of electronic avant-garde music, beginning in the early 1970s. He was a founding member of the influential Krautbands Tangerine Dream and Kluster, co-founder of the legendary Zodiac Free Arts Lab in Berlin, and has inspired and influenced the work of many musicians around the world with his solo works and countless collaborations. Not only his enormous productivity was extraordinary, but also his artistic practice, which refused all criteria of commercial usability. Throughout his life he has not subjected himself to any musical rules. Freedom and independence always remained his highest premises.