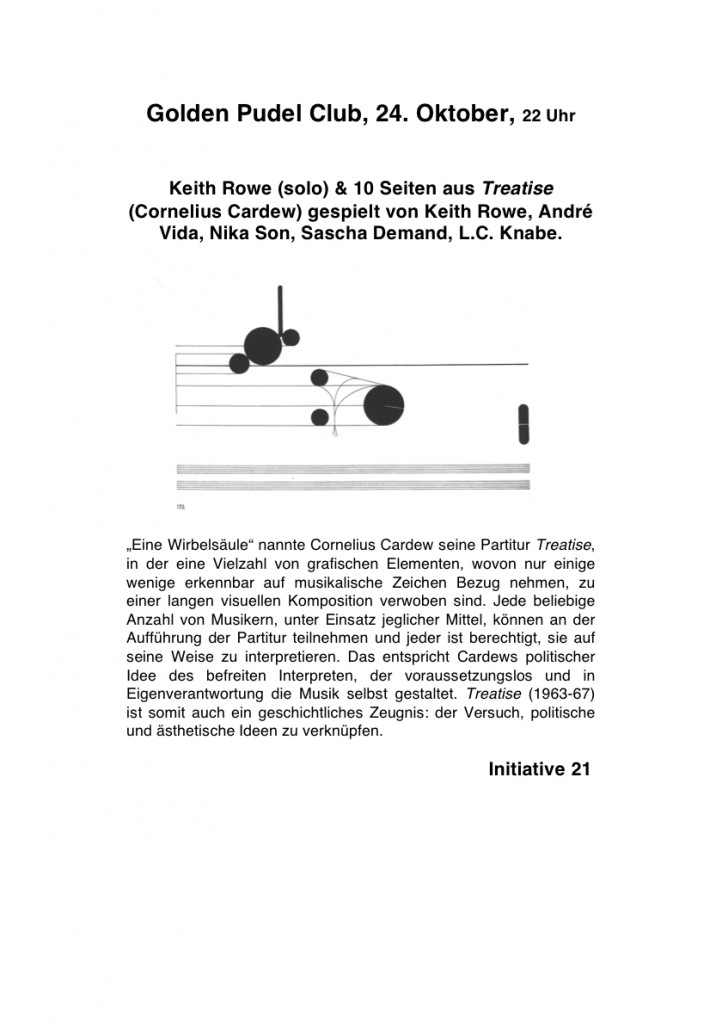 WED, 24 OCT 12 – 22h – GOLDEN PUDEL CLUB, Hamburg
Keith Rowe (solo)
& Treatise of Cornelius Cardew played by Keith Rowe, André Vida, Sascha Demand, Nika Son, L.C. Knabe
STARTS: 22h!!!
Treatise is a musical composition by British composer Cornelius Cardew (1936-1981). Treatise is a graphic musical score comprising 193 pages of lines, symbols, and various geometric or abstract shapes that eschew conventional musical notation. Implicit in the title is a reference to the philosophy of Ludwig Wittgenstein, which was of particular inspiration to Cardew in composing the work. The score neither contains nor is accompanied by any explicit instruction to the performers in how to perform the work. Cardew worked on the composition from 1963 to 1967.
Cardew in his own words: "The great merit of a traditional musical notation, like the traditional speech notation ie writing, is that it enables people to say things that are beyond their own understanding. A 12 year old can read Kant aloud; a gifted child can play late Beethoven. Obviously one can understand a notation without understanding everything that the notation is able to notate. To abandon notation is therefore a sacrifice; it deprives one of any system of formal guidelines leading you on into uncharted regions. On the other hand, the disadvantage of a traditional notation lies in its formality. Current experiments in mixed-media notations are an attempt to evade this empty formality. Over the past 15 years many special-purpose notation-systems have been devised with blurred areas in them that demand an improvised interpretation."
Keith Rowe is an English free improvisation tabletop guitarist and painter. Rowe is a founding member of both the hugely influential AMM in the mid-1960s (though in 2004 he quit that group for the second time) and M.I.M.E.O. Having trained as a visual artist, Rowe's paintings have been featured on most of his own albums. After years of obscurity, Rowe has achieved a level of relative notoriety, and since the late 1990s has kept up a busy recording and touring schedule. He is seen as a godfather of EAI (electroacoustic improvisation), with many of his recent recordings having been released by Erstwhile Records. Rowe has worked together with numerous composers and musicians, including Cornelius Cardew, Christian Wolff, Howard Skempton, Jeffrey Morgan, John Tilbury, Evan Parker, Taku Sugimoto, Otomo Yoshihide, Sachiko M, Oren Ambarchi, Christian Fennesz, Burkhard Beins, Toshimaru Nakamura and Peter Rehberg.