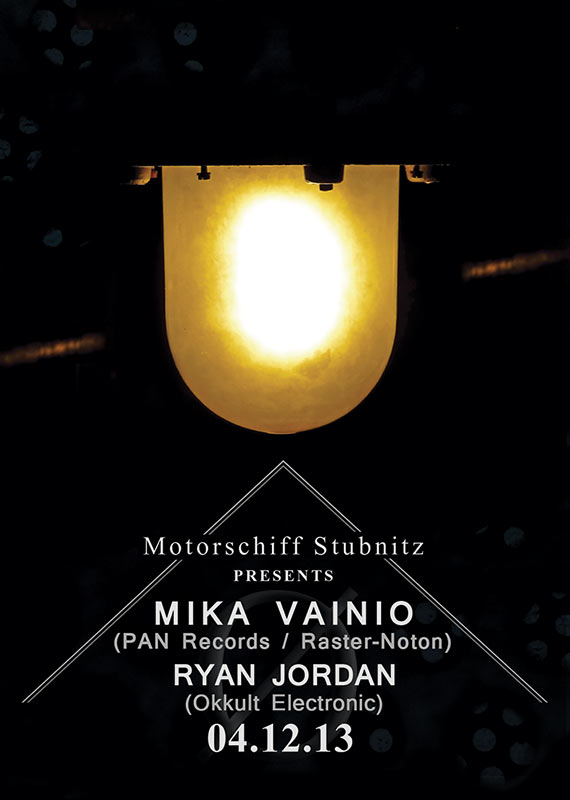 Electronic Exploration into Sound
Live:
MIKA VAINIO
RYAN JORDAN
On the 4th of December Mika Vainio brings his colossal sonic explorations to the dark underbelly of the Stubnitz. Originally as half of the Finnish duo Pan Sonic, Mika Vainio has been creating bass heavy sound since the mid nineties. The form is varied whether it is abstract drone or avant minimal techno, his sound is distinctive due to its analogue warmth and electronic harshness. He has released on labels like editions Mego, Touch, Wavetrap and Sähkö and has been producing with Alan Vega of Suicide, Keiji Haino, Chicks on Speed, John Duncan and Bruce Gilbert.
Featured on the same night is London Noise producer Ryan Jordan. A graduate from the infamous Goldsmiths University Jordans sound is harsh and explorative. Creating his own genres such as 'Possession Trance' and 'Retro-Death-Telegraphy' Jordan uses a wide array of machinery to openly confront the audiences interaction with the Outside.
Find a review of his show here:
www.blog.frieze.com/wysing-music-festival/
Opening DJ: Nikae (Golden Pudel/HH)
At
Hamburg