08 OCT 18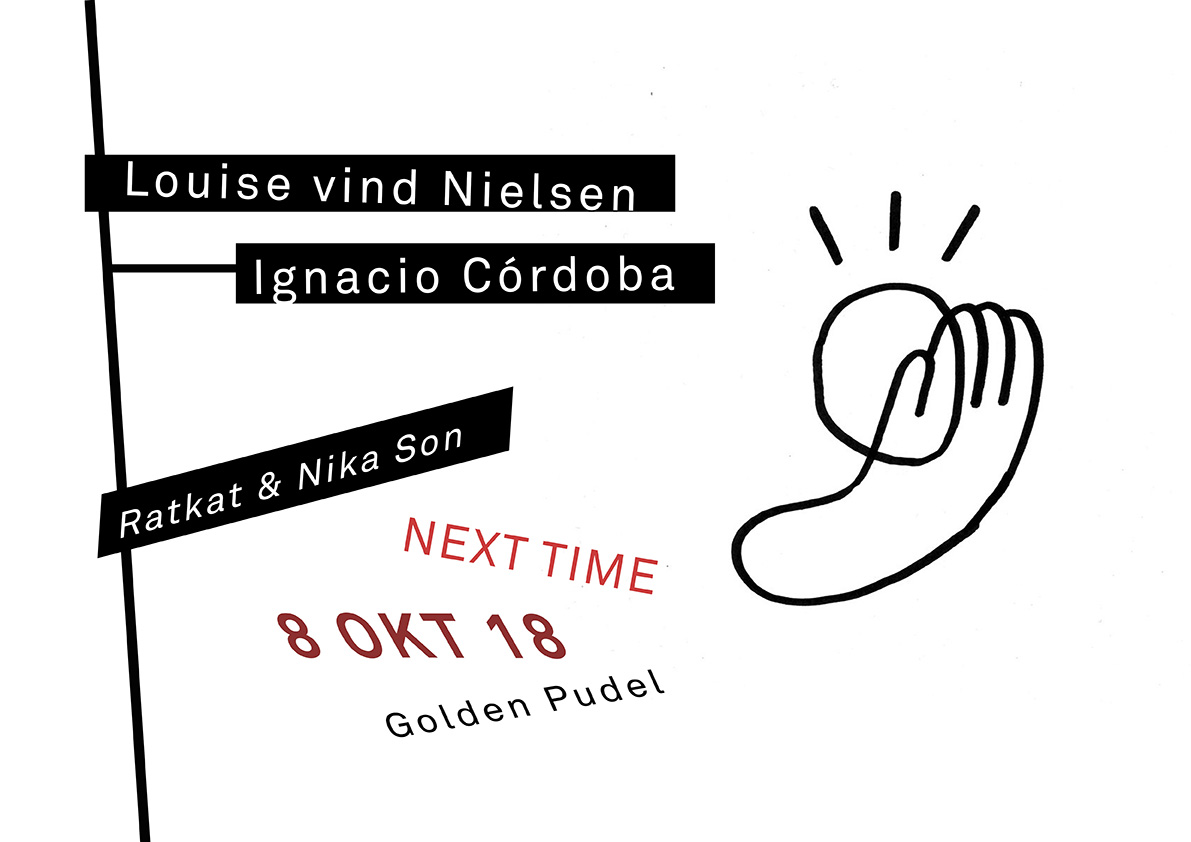 NEXT TIME
w/
Louise vind Nielsen
Ignacio Córdoba
is a Copenhagen-based musician from Madrid, whose music goes from free improvisation or the first electronic traditions ala BBC Radiophonic Workshop or Elianne Radigue, to current trends like The Caretaker, Oren Ambarchi or William Basinski.
Ignacio devotes himself to "La Caja" (The Box) – an old industrial calibration machine that plays with time like memory does: stretching, slowing and speeding sound, making it appear and disappear a bit different every time. Distant and hypnotic like a black hole, he uses it to get us to underwater sounds, bubbly atmospheres and melancholic mermaid calls through emotional and trance-inducing tunes.
The project has been active in different line-ups (from solo or duo up to quintet) since 2011, with two self-released records, cassette tapes through the labels MAGIA and Punctum, and shows all over Spain and 6 European tours through 17 countries.
is a Hamburg-based conceptual sound-, performance and visual artist from Denmark. Her body of work deals with the interrelations between human and machine in a diverse artistic practise between poetry and social engagement, using in particular performance and sound, often examining complexe themes with an obscure and humorous approach. In this way she performs as "Umuligt Instrument" where she transforms her body into a living electroacoustic instrument with help of a specially designed suit. With her recent performance format "Human Amplifier" she invites performers to acts as living speakers for her live concerts. Her Hamburg-based project "Radikal Unsichtbar – Centre for Collective Learning and Radical Listening" aims to explore a language of listening through workshops. Louise holds a degree from the Det Jyske Kunstakademi – Diplom (MFA) from 2013 has studied at Hochschule fur Bildende Kunste Hamburg.
djs/
Ratkat & Nika Son
Mit Unterstützung des VAMH ! ♥
13 AUG 18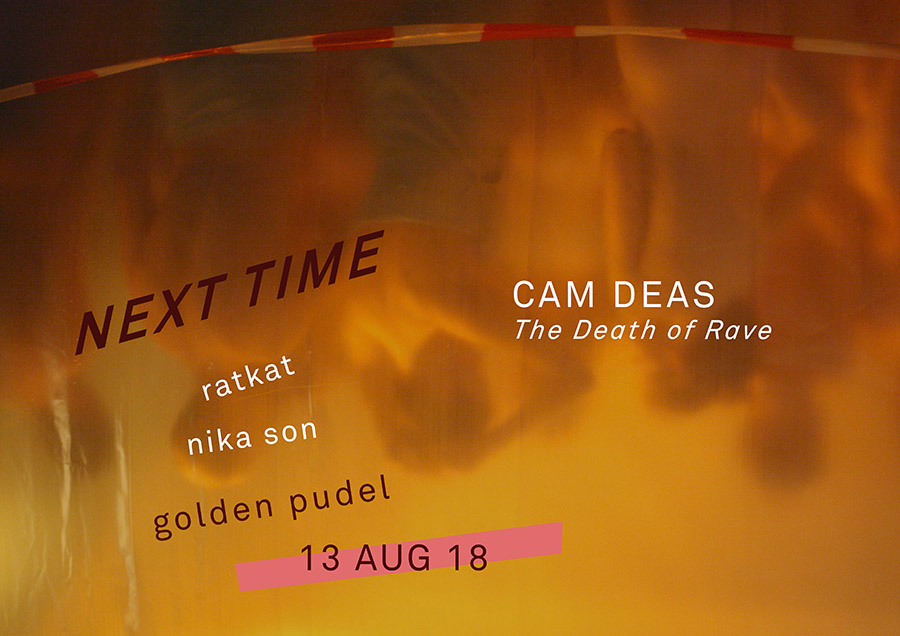 NEXT TIME
Golden Pudel
20h
°°°°°°° CAM DEAS °°°°°°°live
is a London-based musician and sound artist. Known previously as a solo guitarist and more recently for his live electro-acoustic work, he is currently working with pure synthesis. Deas treats synthetic sounds like alien orchestral sections, exploring polytempos and abstract sounds to create intense yet organic, ever-shifting, immersive sound environments.
some words about his new album:
…Time Exercises is a complex study in amorphous polymetric rhythms by Cam Deas for The Death of Rave. His first album composed solely for modular synths and computer, Cam's follow-up to the acclaimed String Studies for Luke Younger's Alter label marks a headlong tilt from acoustic to electronic spheres with a staggering effect resulting from meticulous research and process. It sounds as advanced as Xenakis or Roland Kayn superstructures, with the rhythmic displacement of FIS or Autechre, and with a grasp of slippery, mind-bending timbral dissonance comparable to Coil and Rashad Becker records…. (boomkat)
°°°°°°°Ratkat & Nika Son°°°°°°°°°djs
4 JUN 18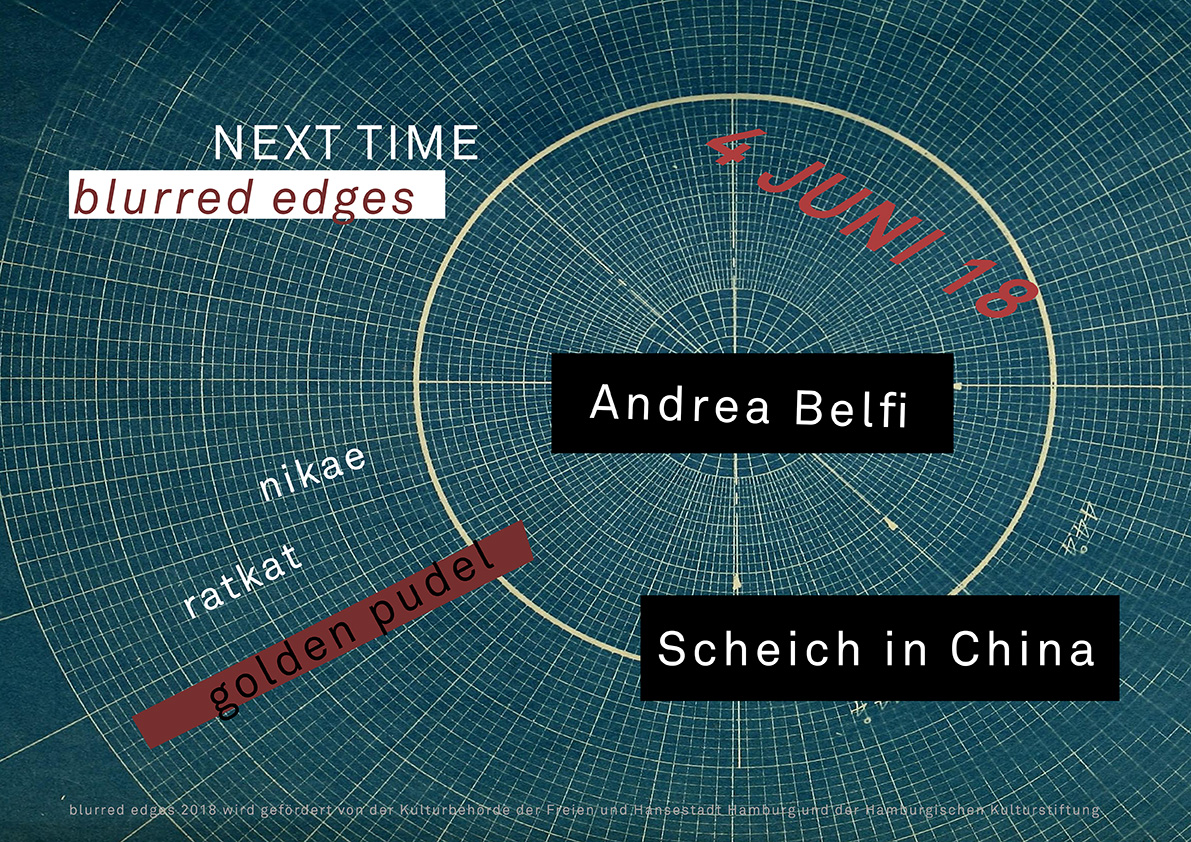 NEXT TIME at blurred edges festival
live/
Andrea Belfi
Scheich in China
Der in Italien geborene Andrea Belfi ist Schlagzeuger, Komponist und experimenteller Musiker. Seine von langen, soundscape-artigen Bögen getragenen Performances sind rhythmisch komplex und dabei atmosphärisch, pulsierend, hypnotisch und voller variierender Klangfarben. Mit einem minimalistischen Drum-Setup, bestehend aus dem finnischen Saari Kit, zusammen mit prägnanten elektronischen Klängen baute Belfi im Lauf der Jahre eine ganz eigene Sound-Welt auf. Für seine energetisch-immersiven Live-Performances konnte er sich über die Jahre einen ausserordentlichen Ruf erarbeiten, sowohl als Solomusiker als auch in zahlreichen Kollaborationen. Veröffentlichungen auf Labels wie Room40, Miasmah und Float.
Scheich in China kombiniert Schlagzeug und Elektronik, wenn auch in gebrochenerer Art und Weise. Industrielle Schläge brechen frei, verwoben mit Noise, Modularsprudel und feinen Feldaufnahmen. Scheich in China ist auch bekannt als Alsen Rau, sowie Collaborateur bei Esmark, On + Brr und dem DJ-Duo Brenzhold. Veröffentlichungen bei solch delikaten Hamburger Labels wie VIS, Hafenschlamm und Pleisto.
Djs: Nikae & Ratkat
12 FEB 18
NEXT TIME
//
SCHLUSS (Sky Walking)
From the circles of Hamburg's Golden Pudel Club the duo Schluss presents their debut album "28" on Sky Walking. Éric Falconnier and Joachim Schütz join another adventure into Spontaneous Music- free and intense, demanding and magical.
A life dedicated to Noise, Experimental Music and Free Jazz, Éric Falconnier played in several formations such as Gebrochene Beine who appeared with the most notable piece on the previous Sky Walking compilation. Joachim Schütz is known for his collaborations with Ellen Fullman, Konrad Sprenger, Arnold Dreyblatt and Samara Lubelsky to only name a few. Schütz is also part of the Metabolismus collective.
With their dynamic, fragile and highly surprising Live sets and recordings, Schluss are on the path to decline expectations and burst conventions.
8 JAN 18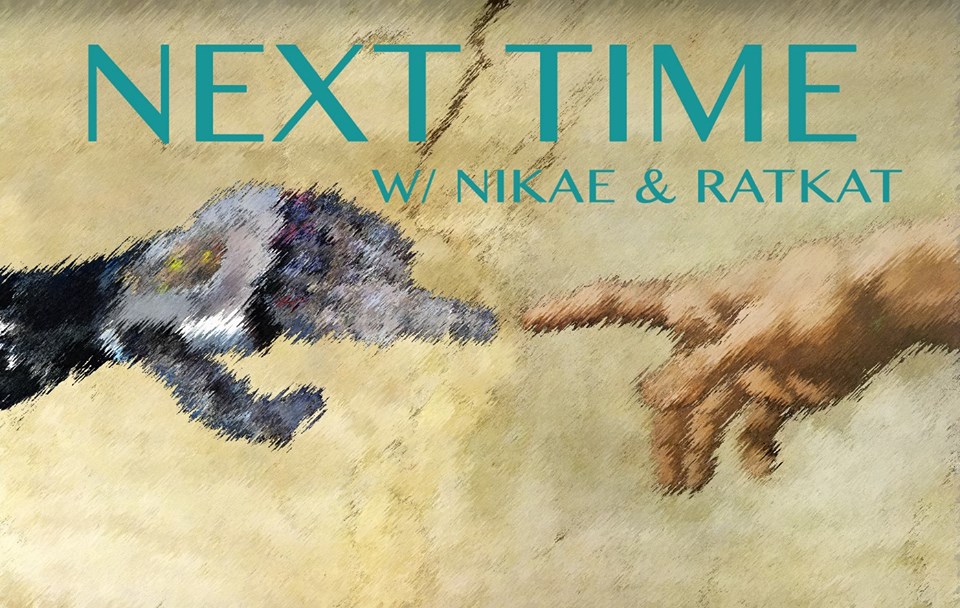 Next Time / Time Machine
Ratkat & Nikae
Pudel