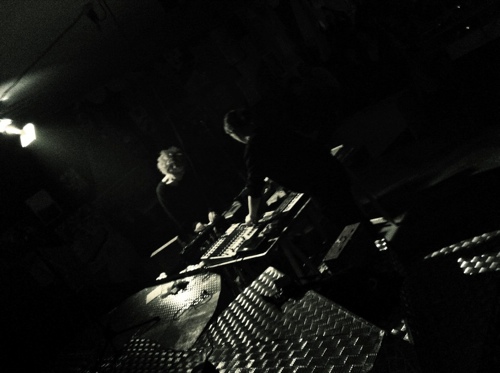 Performances, exploring sound and space
n.son & j.jembere (FKA a_cis & pom piet) perform together since 2009, using analogue projections, samples and sounds of acoustic and electronic instruments.
The sounds of the slide- and filmprojectors at times being amplified and used like a drummachine.
The performances are based on concept improvisation, the starting point being a story or state of being that they try to make audible, visible and felt throughout the space.
Focal point is the communication between sounds and images in space and the different possibilities of narrating content and expressing meaning they offer. They engage with each space anew, while the multitude of perspectives is their focus. The sounds and images travel through the room from different positions, in varying volumes, intensities and distances.
Coming from these different sources and places; amplified and non-amplified, acoustic, analogue and electronic information is travelling in relation to the qualities of space and position of the bodies.

Nika Son & Janine Jembere at Besser stranger noch Festival, M.1 Hohenlockstedt 2015
http://www.arthurboskamp-stiftung.de
a_cis & pom piet at friendsandloversinunderground exhibition
2011, Hamburg
°°°°°°°°°°°
[soundcloud url="http://api.soundcloud.com/tracks/47307358″ params="color=e70000&auto_play=false&show_artwork=true" width=" 100%" height="166″ iframe="true" /]
a_cis & pom piet at Diffraktion
Stattbad Wedding, Berlin
2011